Quick-Response Universal Spill Kit - for Oil or Water-Based Fluids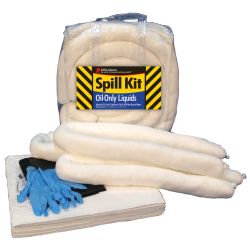 Conveniently bundled in varying sizes, for jobs small-to-large
Available with universal or oil-only polypropylene sorbents, Buffalos Spill Kits solve your needs for immediate, reliable and portable spill containment. These kits contain everything you need for quick and effective response to an oil or chemical spill.
Fast Facts About Sorbents
Oil-Only (White) sorbents absorb oil-based fluids such as motor oil and hydraulic/transmission fluid.
Universal (Gray) sorbents absorb all oil- and water-based fluids, including paint, solvents, and acids.
Pads are economical, easy to apply, and easily picked up after spills.
Socks are for spill containment on water and land, or around drains and equipment.
Sonic Bonding adds strength and durability to pads and rolls.