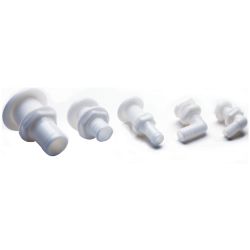 Straight & Right Angle Fittings
High impact plastic will not rust, corrode or discolor. Specially designed for Rule pumps.

On the Right Angle fittings, the "mushroom head" is actually a separate piece, which spins onto the threaded arm of the fitting after it is inserted through the hull or bulkhead. The hull is then sandwiched between the locknut and head.
In the RUL 61 (3/4") the head is mushroom shaped with two wrench flats on the sides for tightening.
In the RUL 62 (5/8") the head and locknut are identical flanged hex nuts.