Due to supply chain disruptions and new warehouse safety measures some shipments may be delayed up to 72 hours.
37 mm Curved Base Ball Bearing Cheek Block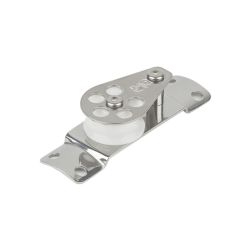 5/16" (8mm) to 7/16" (11mm) Line
Unique curved base plate fits up to 2" diameter spar section for easy mounting. Excellent for control line leads on dinghies and small daysailors. All modles have white Delrin sheaves.