| Adventure Medical Kits |
Marine 1000 First Aid Kit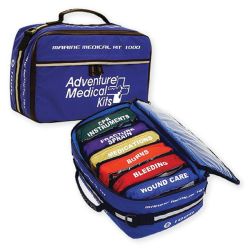 For Coastal Cruising - Within 12 - 24 Hours of Medical Care
Designed to provide medical supplies you need for coastal cruising when professional medical care is within approximately 12 - 24 hours. The Marine 1000 includes equipment for Fractures/Sprains, Dental, Bleeding, Wound Care, Burns/Blisters, Medications, a Suture/Syringe kit, CPR Instruments and the manual, A Comprehensive Guide to Marine Medicine, by Eric Weiss, M.D. and Michael Jacobs, M.D.
Foam padded case protects items and floats
Water-resistant zipper seals moisture out
Abrasion resistant, textured rubber bottom keeps case from sliding
Reflective webbing makes kit easy to spot in the dark
Injury specific modules feature clear vinyl windows to see items
Size: 15" x 10" x 5.5"
Weight: 6 lbs. 2 oz.