Dock Buddy Stretch Dock Lines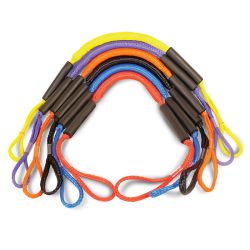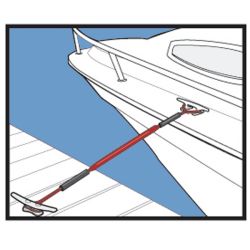 For Temporary Docking Only A Dock Line With an Internal Bunji Cord That Stretches
Designed for day-use only Dock buddys provide temporary, quick docking at fuel docks, sanitation pump-outs, supply docks, etc.
Maximum recommended boat size: 22 ft/4,000 lb
Available in other colors by special order
Not for permanent mooring
Do not leave your boat unattended when using this product

Simple to use:
Hook one loop on your boat cleat
Stretch dock buddy to dock cleat and hook other loop
Slide loop adjusters to tighten loops on cleats

This product is a section of loosely woven hollow braid polypropylene covering a bungee cord which is secured between the two black sections. The polypro has a spliced eye at each end. The loose weave of the polypropylene cover expands when the Dock Buddy is short, but tightens and narrows as it is stretched (similar to the "Chinese Finger Cuffs" you played with as a kid). The internal bungee cord provides stretch, while the polypro cover ultimately limits how far the bungee can stretch. At ultimate stretch, most of the load is on the polypropylene cover.