Systems Monitor w/ 5 Dectectors & Bell - 1 Engine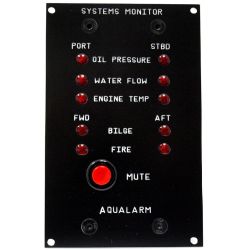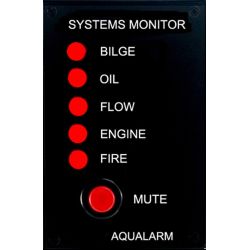 The ASM monitors all the important mechanical functions of your boat:
Bilge water level - unique anti-splash tube prevents false alarms; alerts high water conditions
Engine oil pressure - warns of low pressure before damage is done
Engine cooling water - patented design for marine use
Prevents water pump, engine, and exhaust damage due to low raw-water intake flow
Engine temperature - high engine temperature when all other functions are okay may indicate problems with the water jacket around the exhaust riser
Engine compartment fire and heat detection - guards against fires from fuel leaks
Warnings are sounded on a loud (100 dB) bell and a visual light on the helm's dashboard.
The ASM is available for single or twin engines in 12-volts, 24-volts, and 32-volts configurations. Clear instructions make it easy for end-users to install Aqualarm components.