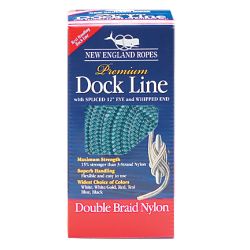 Pre-Cut Lengths with Eye Splice Black & Teal
A combination of high-grade marine nylon, a special torque-balanced construction, and a unique stabilization process makes these docklines long-wearing, easy-to-handle, and kink-resistant.
These double braid lines offer controlled elongation and excellent abrasion resistance. Nylon Double Braid is the ideal choice when energy absorption is the key design factor.

Each line has a professionally spliced 12" eye with a heat-sealed bitter end
Note that with only a 12" eye, the longer versions of these lines are not suitable as lock lines

Note If desired, the 50 foot long dock lines in this offering can be used as Lock Lines when passing through the "Ballard Locks" between the Lake Union Ship Canal and the Puget Sound, as they have eyes that are at least the required 12" length.