It installs from inside the boat and fits virtually any port or hatch (smaller than 28 x 28).
Just attach the suction cup to the lens from inside the boat, then draw the cord tight. The steel frame presses against the cabin wall or ceiling, giving you a tight seal.

The mosquito net is dense enough to keep small insects and gnats outside. On fiberglass hatches you need to mount a little plastic plate for the suction cup to be attached on (optional). When not used the mosquito net is folded and stored in the included storage bag, 1/3 the size of the screen.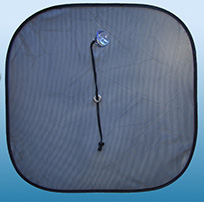 Material: Polyester net with chromed steel frame
Color: Black
Also check out the blackout covers! They work on the same principle and are perfect for keeping a v-berth dark so you can sleep in.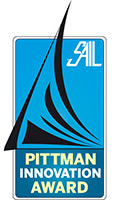 More photos:
How the screen attaches to your hatch
Blackout cover