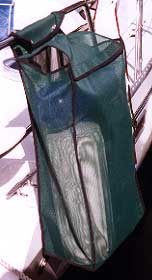 We've seen fenders stored in cockpits and sea berths, hanging from stern rails, toe rails, and -- ugh -- prop shafts.
These fender bags end the dilemma.

Made from mesh fabric that allows good air circulation, they hang from a pulpit or lifeline and keep your fenders handy... and the rest of your boat clean and neat.