Due to supply chain disruptions and new warehouse safety measures some shipments may be delayed up to 72 hours.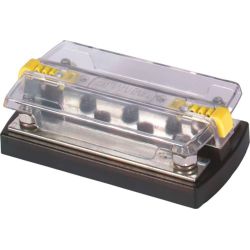 A Well-Designed, High Amperage Bus Bar
Combines clearly marked negative and positive buses on one block
Easy release cover snaps on to meet Coast Guard and ABYC insulation safety requirements
Continuous amperage: 130 amps AC/150 amps DC
Voltage rating: 300 volts AC maximum/48 volts DC maximum
Bus material: tin-plated copper
Base material: reinforced polycarbonate
Cover material: clear polycarbonate
No. 2720 has no screw terminals; used primarily as a means of extending wire harnesses
Dimensions: 2.58" x 4.88"