Lightning Master Static Dissipater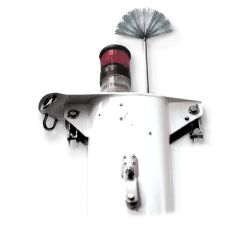 Lowers the likelihood of a direct lightning strike by reducing the build-up of static ground charge and retarding the formation of ion streamers, which complete the path for a lightning strike.

The light-weight 21" long dissipater mounts to the masthead and extends vertically above all other masthead equipment.
Forespar does not claim that this product is 100% effective in preventing a lightning strike. This product does however, control the known causes of lightning strikes and thereby reduces the incidence of direct strikes.