90 Degree Tail Piece TPC Series - Bronze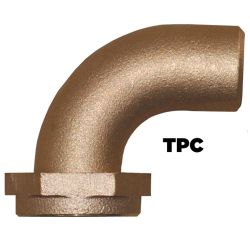 90 Elbow w/Female Threads
Tail pieces are threaded with NPS (straight) female pipe threads, and are for use with Groco SV Series seacocks, or any product with straight male pipe threads. The use of these tail pieces on tapered (NPT) pipe thread is acceptable only for low pressure applications, and then only with generous use of pipe sealant or thread tape.

TPC (Tail Piece Curved) Series 90 tail pieces are comprised of two pieces. The swivel may be rotated in any direction to facilitate ease of hook-up; then the nut is tightened.

Unlike tapered pipe threads which seal by exerting pressure on the threads themselves, straight threaded pipe fittings effect sealing by the compression of a soft material onto the external thread, or with the use of a flat gasket - as used with garden hose.