| Johnson Marine Hardware |
Hand Crimp - Left Hand Thread Lifeline Studs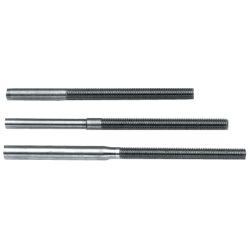 316 Stainless Steel - Left Hand Thread
Finding a replacement stud for a lifeline fitting can be somewhat overwhelming. Lifeline studs are available in a bewildering number of combinations of wire diameters in hand crimp or machine swage terminals, and with left- or right-hand threaded studs that come in various diameters and lengths.
Here are some tips which may be helpful in finding the stud you need. NOTE: These tips are generalized - some exceptions exist:

First, decide if you need a machine swage or hand crimp stud - see below if you need help with this
Those studs marked "For General Use" are used by the manufacturer in a variety of lifeline fittings
Those studs marked for use with particular fittings are generally not used in other fittings
The stud (wire) end of Johnson Lifeline Turnbuckles is generally left handed *
The stud (wire) end of Hayn Lifeline Turnbuckles is generally right handed *
Gate Eyes take short 3/8" or 7/16" left hand threaded studs (the available very short right hand studs are generally used for architectural [button] applications)
Pelican Hooks usually use 1-1/2" or 2-3/8" studs; Johnson are generally left handed, but Hayn and Sea-Dog Pelican Hooks are right handed
Short Lifeline Adjusters use studs with 1-1/2" long threads
Standard Lifeline Adjusters use 2-1/4" and 3-1/4" right hand studs
Studs used in fittings without locking nuts - such as open body and "slotted" tubular turnbuckles - are usually cross-drilled at the tip to accept a cotter pin or ring, so they can be secured from accidental loosening


Heavy on the technical side...

Hand Crimp terminals, when properly applied, are approximately 65% - 70% the strength of 7 x 7 stainless steel wire.
While this has proven adequate for use in lifelines, these fittings should not be used for standing rigging or other high load applications.
For correct attachment, manufacurer's instructions must be followed.

Is Your Lifeline Terminal a Machine Swage or a Hand Crimp?
Generally, a machine swage terminal has a relatively thick wall, with a beveled end. Hand crimp terminals are relatively longer, with thinner walls and straight cut ends without a bevel.
Note that the above only applies to terminals on lifeline fittings. Rigging terminals are ALWAYS machine swaged.

Left or Right Hand Threaded Stud?
Hold the threaded fitting in front of you with the threaded stud oriented vertically.
On a right-hand threaded stud, the threads will slope slightly upward to the right.
On a left-hand threaded stud, the threads will slope slightly upward to the left.
This works no matter which end of the stud is pointing up.
Take your time. The finer the thread, the smaller the slope - and the more difficult it is to determine its angle. Use a magnifying glass, if you have to.

* In standing rigging turnbuckles, as opposed to lifeline turnbuckles the general rule is that the Left hand threaded end is the Lower end. However, on least some Taiwanese sailboats the right hand thread is used at the lower end.