Dual Extended Horizontal Round Rail Mount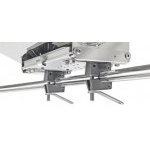 Fits all ChefsMate, Newport, Catalina & Monterey Grills & FirstMate "DM" Tables
This round rail mounting bracket is made entirely of 18-8 stainless steel and 356 hard anodized aluminum. The quick-disconnect system allows for quick disassembly leaving no hardware on the rail. Designed for mounting rectangular or dual-mounted filet tables out over the water.
Not recommended for use with 12" x 24" rectangular grill
Not for use with 9" x 12" and certain 9" x 18" rectangular grill models
Refer to product owner manual or visit www.magmaproducts.com for individual product mountingspecifications
Fasteners for attaching this mount to any Magma Rectangular Grill or Dual Mount (DM) FiletTable/ Cleaning Station are included with those products.