Snap Hook - Offset Gate & Toothless Key-Lock System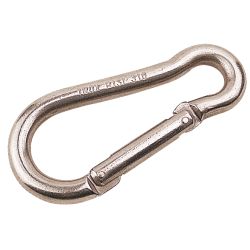 The offset gate of this snap link provides a larger passage area for rope, cable, or solid stock material into the snap, while providing the same safety features of the traditional style snap hook.
The offset gate also makes it easier to keep your fingers out of the way when clipping or unclipping the carabiner.

The toothless, key-lock design of this snap hook results in much less snagging on lines and webbing.
This is especially important when attempting to disengage lines - the decrease in catching and snagging is significant.

Unlike standard hook-style carabiners, the gate opening on these carabiners is smooth and polished, with no sharp edges to cut or catch.
Once you try these toothless carabiners, you will never go back.