Due to supply chain disruptions and new warehouse safety measures some shipments may be delayed up to 72 hours.
885 Paste Fleetwax - 12 oz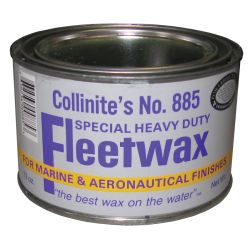 Long Lasting, Year Around Marine Wax
Fleetwax paste developed for marine and aeronautical finishes to seal and shield against acid rain, sun, salt spray, bugs and other environmental acids. Easily applied and non-abrasive, wax will prevent finish deterioration and the adhesion of foreign elements.