1-1/2 in. Inline Check Valve - Oversize Internal Valve, Heavy Duty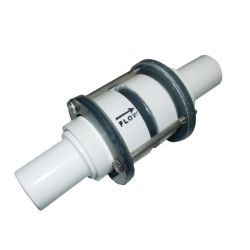 With 2" Duck Bill Valve For Sanitation or Other Uses
Use this large, 12" check valve with its internal 2" duckbill valve for heavy duty sanitation applications where clogging with foreign material or excessive toilet tissue might be a problem. Commercial vessels, charter boats, or private yachts with frequent guests are likely examples.

Typically, these valves are used in vacuum systems when multiple vacuum toilets are plumbed to one central vacuum pump. The check valves preserve the integrity of the individual vacuum tanks as the toilets are flushed.

A check valve can also be used to prevent water from flowing backward for servicing pumps, filters, and other applications. Note that the 2" internal duckbill valve in this product is EPDM rubber which can be degraded if exposed to petroleum products. This size duckbill is only offered in EPDM; there is no option for a nitrile replacement.

Uses large, 2" duck bill joker valve
Can be disassembled to clean or replace joker valve
Fits 1-1/2" hose
Dimensions: 12"L x 4" Dia.