| Adventure Medical Kits |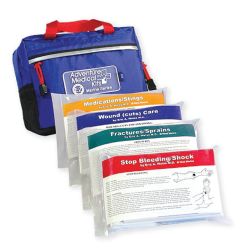 Group Size: 1 - 6 People; Trip Duration: <6 Hrs. From Medical Care
The Marine 400 is for close to shore, saltwater, or freshwater boating when you will be within 6 hours of professional medical care. Major upgrades from the Marine 300 include: Laerdal CPR Face Shield, triangular bandage, sterile eye wash, as well as larger quantities of medications and wound care items. Includes bandage materials and wound care items, gloves, trauma pad, ace bandage, SAM splint, cold pack, scissors, forceps, a moderate selection of OTC meds, and the manual A Comprehensive Guide to Marine Medicine.
Foam padded case protects items and floats
Water-resistant zipper seals moisture out
Abrasion resistant, textured rubber bottom keeps case from sliding
Reflective webbing makes kit easy to spot in the dark
Injury specific modules feature clear vinyl windows to easily find items
8.5" x 6.5" x 5.5"
2 lbs. 3 oz.