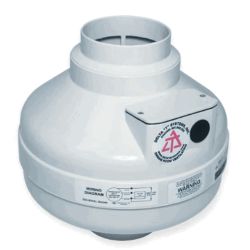 80XL Series Inline Centrifugal Duct Fans
Delta T Systems' versatile inline AC duct fans are available for ducts from 4" to 10" in diameter. They feature a rugged plastic housing constructed of UL-recognized, UV-protected thermoplastic resin for the ultimate in lightweight corrosion-proof applications.

The tough protective shell is caulked at all screws, seams, and wire exits allowing the fan to be mounted in wet locations. This makes these fans suitable for a wide range of marine applications including multiple point exhaust and dual head exhausts.

Installation and wiring are simple, and the compact size allows the fan to be mounted in tight spaces. The fan comes pre-wired and has been designed for easy connection using an external wiring junction box with a waterproof gasket.
All of Delta T Systems' inline duct fans are supplied with a mounting bracket and installation instructions for fast, trouble-free installation.The performance characteristics of this inline fan make it ideal for marine applications. Flow rates range from 122 cfm to 649 cfm with maximum allowable airstream temperatures of up to 140F.