DC Fan Control System - Temperature Monitoring with Automatic or Manual Modes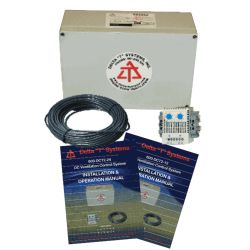 For Automatic Control of Engine Room Temperature
Delta T Systems introduces the next generation in DC Voltage Control Systems technology. The 600-DCT2-12/24 DC Controller utilizes the same tried and true architecture that made the 600-DCT1 the most reliable DC ventilation controller in the world, but now adding the capability of 12 or 24 VDC input/output.

The 600-DCT2-12/24 control system is designed to automatically control engine room ventilation via a two-temperature setting, while still having the convenience of manual low and high-speed control.
In addition to two voltage options, the new 600-DCT2-12/24 also provides adjustable temperature settings, with two adjustable set points for making easy on-the-fly adjustments for different climates. The systems new design allows for not only a reduction in noise levels, but also reduces the current draw by up to 25%.

Efficient automatic operation
Two speed manual control (high or low)
Reduced noise levels
Reduced current draw
Compact size
Maintenance free
Easy to install
Fire system shutdown capabilities

Note The 12V DC version of the 600-DCT2 can only be used with 9" fans or 4" blowers.