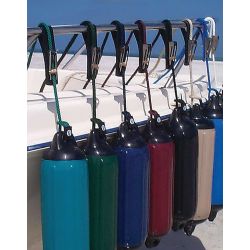 Holds Lines up to 5/8" in Diameter
Quick and simple.
These fender adjusters simply snap over your lifelines or railing and are ready to use.

Featuring a mechanical braking mechanism, once the fender height is set, pull down to tighten, and a brass roller compresses the line to hold it in place.
Simply pull up on the line to loosen the roller, and release the line for adjustment or removal.
Available in Standard and Large (white, only) sizes.