Splash-Stop for Fuel - CE/ABYC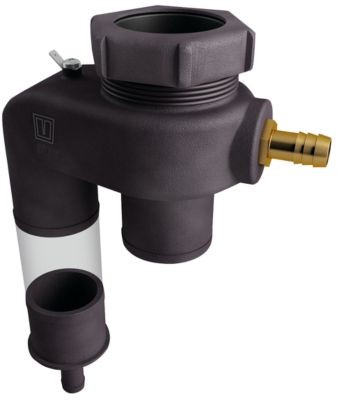 Low Cost Protection Against Expensive Fuel Theft.
The Splash-Stop for fuel meets all the latest CE and ABYC standards. It is connected directly under the deck filler plate and ensures that overflowing fuel or foam cannot come back out, thereby soiling the deck and possibly polluting the water. The housing and hose connection of this Splash-Stop are made of anodized aluminium and all materials comply with the relevant CE and ABYC directives. It is suitable for both diesel and petrol fuels.
The fill and vent lines, as well as the hose clamps should be ordered separately. The type of hose used should conform with or exceed ISO 7840 Marine Fuel A2 or SAE J1527 A2. All VETUS fuel hoses meet these requirements. In addition to the Splash-Stop, a matching stainless steel deck entry is also required.
Excess fuel is collected in a parallel hose, which functions as a reservoir. The capacity of the reservoir is determined by the length and diameter of the hose. A 1-1/2" reservoir hose has a capacity of 0.27 gal. per metre (3.3') and a 2" hose, a capacity of 0.49 gal. per metre (3.3'). For a tank of 10.5 gal. we recommend a minimum reservoir capacity of 0.15 gal. and for a 105 gal. tank a minimum capacity of 0.49 gal.
The excess fuel is returned from the reservoir hose back into the tank. A no-smell filter for diesel fuel may be fitted in the tank breather line, to prevent unpleasant smells on deck, This is not suitable for use with petrol. If the filter is located well above the deck entry, the breather line may exit lower than the deck level, if required.