The Tank Tender - Models for Up to 4 Tanks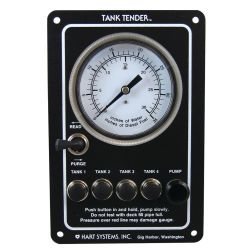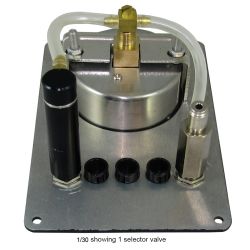 Accurate Tank Readings Without Electricity These Models Measure Up to 4 Tanks
Tank Tender is an extremely accurate gauge system that uses air pressure to measure the liquid level in a tank without using electricity! As such, it is an highly reliable system that will continue to function even if your electrical system is down.

The Tank Tender system is very simple. Just select a tank, then pump in a small amount of air to obtain the tank level in inches. A calibration card allows you to convert from inches to gallons, if desired.
Only precision valves, pumps, and easy-to-install push-in connections are used. The "sensor" is just a thin plastic tube, with no electronics or moving parts - the ultimate in simplicity and reliability. Connection from the tank to the panel is via thin 1/8" OD flexible nylon tubing.

Use for water, diesel or holding tanks (not for use with gasoline)
Monitor the levels in all your tanks with just one unit
Individual sensors and valves eliminate the possibility of cross-contamination among tanks. Fluid is never removed from any tank; only a few bubles of air are pumped in
Panels are available in 4-, 5- and 10-tank models, with scales for deep or shallow tanks (up to 30" water/35" diesel, or 60" water/70" diesel). The models for a maximum of 4-tanks are shown here
Panel dimensions: 4"W x 6"H x 2-7/8"D
Panel cut-out dimensions: 3-1/16"W x 5"H
Although capable of measuring several tanks, the most basic panel comes with just a single selector valve on the back for measuring a single tank; with the option to add additional tanks at a later time. See below

For measuring Holding Tank levels, panels with an optional Purge Valve are available. The Purge Valve allows temporarily bypassing the panel gauge to exert maximum air flow through the tank sensing tube, clearing any material that may have lodged in the tip of the tube and ensuring an accurate reading. If you know you are going to include a holding tank in your system, we reccommend purchasing a panel with a Purge Valve.

PLEASE NOTE To serve the greatest variety of installations - only buying what you need and not paying for what you don't - we sell these systems a la carte.
Below, we offer panels with either one or four tank selector valves pre-installed.
To make a functional system, you will need to purchase a Panel, enough Tubing to connect the panel to each tank, and a Tank Penetration Fitting (and an Extender Tube, if your tank is over 30" deep) for each tank. See Related Products, below.

If you purchase a panel with only one selector valve installed, to measure additional tanks you will also need to purchase an additional panel-mounted Selector Valve Kit for each tank, in addition to all the fittings listed above.