LED 9680 Series Oblong Step Lamp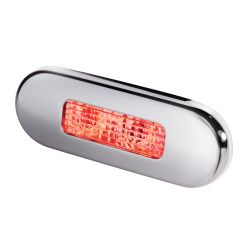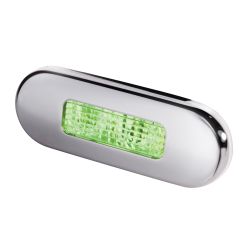 Completely Sealed and Ultra Durable
Stylish, compact and power saving, these LED lights are perfect for use as stair lamps. The light beam they cast is angled downward at 30 to specifically illuminate the tread of a step. Each lamp is supplied with a polished 316 stainless steel bezel (No. 396261B). These lights are UV resistant and completely waterproof and therefore suitable for exterior mounting. They are also useful for cockpit, toe kick or emergency lighting.
30 downward angled beam
Bulb life is greater than 10,000 hours
Power comsumption is approximately 0.6 Watts at 12 volts (50 mAmp)
These lights require a 3/4" x 1-3/4" cut-out
Foam rubber gasket and two SS mounting screws are included
Outer dimensions: 1-1/8" x 3-5/16"