6 in., 12 in., 24 in., 48 in. & 96 in. Channelbrite LED Interior Lighting Kit - 12V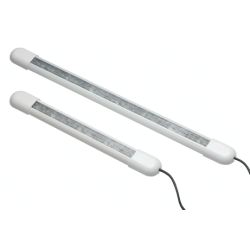 Enhance the Appearance of Your Home or Boat
A unique improvement over the ubiquitous, less than attractive, flourescent strip light. This cool-running LED light runs on 12 volts. It can be used with 120 volt systems with a user supplied transformer/adapter.
Always stays straight and uniform - no drooping or sagging
Rated @ 100,000 Hours of service life - that's 10 years of constant use
No heat given off by light
Virtually unnoticeable when not on - perfect for under-counter lighting
Various length jumper wires and extension cords available for linking units
Operates with 9-16 volt DC systems; 4 ft. cord included
Shock and vibration proof
Attractive end caps included for a finished look
Note: length given is for the actual LEDs; for overall length, add 5.25"