| Johnson Marine Hardware |
Hand Crimp Toggle Jaw to Open Body Lifeline Turnbuckle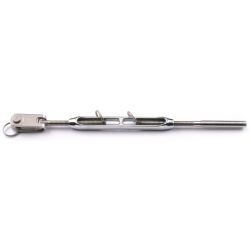 Classic, traditional design. Forged silicon bronze body with T-316 stainless steel studs to avoid stainless on stainless galling.These turnbuckles feature a unique design feature of a slot with wrap-around rings which fit through holes in the studs for positive locking.

Toggle jaw allows for increased range of motion at the terminal end, compared to a fixed jaw
3" adjustment
Hand crimp


Heavy on the technical side...

Hand Crimp terminals, when properly applied, are approximately 65% - 70% the strength of 7 x 7 stainless steel wire.
While this has proven adequate for use in lifelines, these fittings should not be used for standing rigging or other high load applications.
For correct attachment, manufacurer's instructions must be followed.