Due to supply chain disruptions and new warehouse safety measures some shipments may be delayed up to 72 hours.
Kanberra Gel - Tea Tree Oil Air Purifier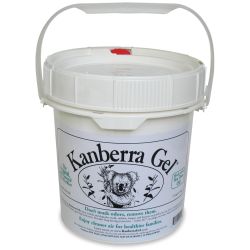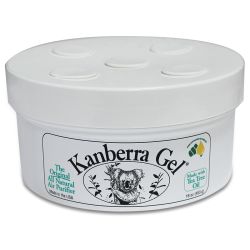 Protection From Mold & Mildew
Kanberra Gel is a natural anti-microbial product which degrades mold, mildew, fungus, and bacteria and then prevents them from coming back.
It provides curtains, cushions, carpets, and other furnishings with long-lasting mildew protection.
Simply place the open container within the area to be treated, and it starts working immediately.
Natural air movement over the container disperses the natural oils to neutralize and eliminate odors associated with mold and mildew on contact.
Unlike other "odor eliminators", which simply slow mildew growth by absorbing moisture from the air, the blend of tea tree oils in Kanberra Gel is an active anti-microbial agent which actually eliminates the mold, mildew, and bacterial spores.
Each container has a service life of about 3 to 4 months. The gel takes 2 to 3 months to evaporate, and the dispersed oils keep working for about a month after that.
Unique gel dispersal mechanism overcomes the obstacles of getting the tea tree oils airborne
Not an odor mask - actively degrades the source of the odor
Safe around kids and pets - the ingredients are actually on the label
Most effective in closed spaces, as air exchange will dilute the vapors
No plugs, no wires, no tearing of bags
Ideal for lockers, bilge spaces, heads, wet lockers, and boats in storage, or just closed up at the dock.
Equally effective for home use musty closets and basements, storage lockers, cabins, vehicles, gym bags, etc.
Will not affect the color of fabrics, carpets, or stuffing
Ideal in air handling ductwork
Penetrates porous materials such as carpet, fabric and wood for long lasting effectiveness
Unlike ozone generators, will not degrade rubber hoses and belts, or wire insulation
Boat Storage:
While your vessel is wrapped, Kanberra Gel removes airborne mold and mildew. As it settles, it also removes impurities from carpets, curtains, and furnishings resulting in easier Spring clean-up, with no wiping up of chemical residues, etc.
Weekender:
On Saturday when you uncover your boat, reseal the Kanberra Gel container, and stow.
On Sunday when you cover your vessel, simply open and place the container where you need it. Kanberra Gel keeps working 24/7.