Nav Bulb - Single Color, Non-Indexed DC Bayonet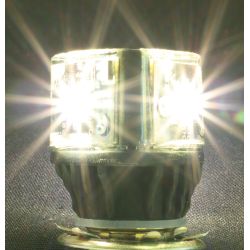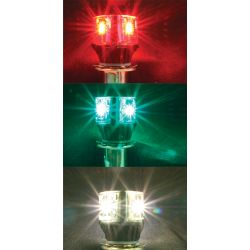 BA-15d 2 Nautical Mile Rating
Lunasea's navigation light bulbs are waterproof, have a lifetime warranty, and are rated for 2 nautical miles.
This LL28 series of bulb produce more intensity, drawing less power, and have a wider voltage input range than previous Lunasea bulbs.

These 2 nautical mile bulbs are designed for navigation lights with non-indexed sockets (both pins at the same height), so they have no particular orientation in the nav fixture.
Not easily seen in the photos, these bulbs have three illuminating faces producing 360 of light.

Bulb base BA-15d, non-indexed double contact bayonet
EMI and surge protected
Encapsulated to protect from the elements
Maintains full brightness from 10 to 45V DC
Small design - only 48.5 mm tall and 30 mm wide

Note - Only use the corresponding colored LED bulb in (port/starboard) fixtures with colored lenses.