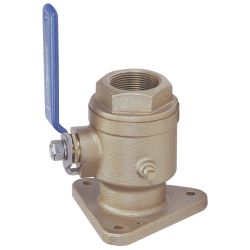 A seacock is your ultimate line of defense against sinking due to a plumbing malfunction. They should be used on all thru-hull fittings for maximum protection.

UL Marine Approved, housing cast of heavy-duty 85-5-5-5 naval bronze
Machined with tapered pipe threads (NPT) on the outflow side, and straight threads on bottom for the thru-hull
Chromed bronze ball for maximum saltwater corrosion resistance; SS ball stem
Fasteners and handles are stainless steel and handles are coated with a thick, non-slip plastic for a sure grip
Bronze body/SS hardware - cathodic protection is required; includes grounding screw for connection to the boat's bonding system
Drain plug for easy winterizing
Triangular flange machined smooth for flush-fit hull mounting
Note: full port, in sizes up through 2"