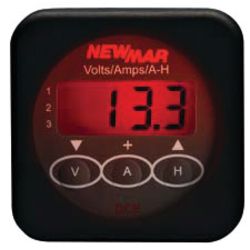 Displays volts, amps, energy used and remaining for 12 or 24 volt systems up to 500 amps and up to 3,000 amp-hour capacity. Makes DC energy management a breeze. Monitor voltage on up to three separate banks. House bank (or battery bank of choice) may also be programmed for the following functions:
1 - monitor charge/discharge amperage
2 - total energy monitor can be set for amp-hours or percent-of-charge
3 - high/low voltage alarm, plus alarm set-point for low amp-hours remaining
500 amp shunt included. NMEA 0183 compatible output for data logging.
The instrument faces are only 2.5" square, providing maximum information in a minimum of space. Typical accuracy is +/- 1%.