Save 20%!! Ends December 16th
SnapIT! Cockpit Tables with Wine Glass Holder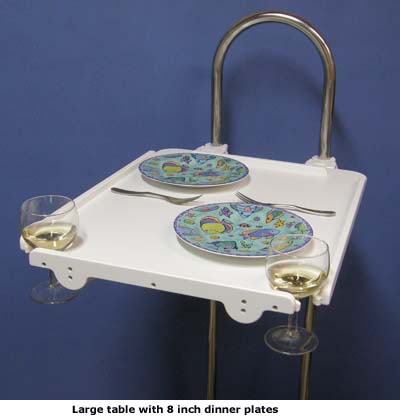 The issue of tippy wine glasses has been solved!


All the innovative features of our standard tables with the added convenience of built-in wineglass holders.

The support arms securely support the table without the use of a leg, while allowing it to be mounted at a convenient height from the cockpit floor.

Use that bungee cord somewhere else! This table snaps securely in the closed position! Installs in minutes. NO drilling! Comes complete and ready for installation. Table shown with 8" diameter plates.

Table comes in two sizes. The large size measures 17-1/2 in. wide x 24 in. long and the smaller table measures 14-1/2 in. wide x 22 in long. Please note: The smaller table is only available for pedestal guards which are 9.5 in. wide on center.