EPA Sealed Ratcheting Chrome Cap Fuel Fill w/ Pressure Relief Valve - Straight Neck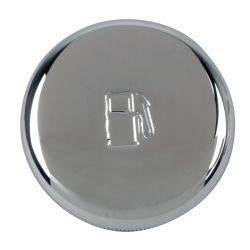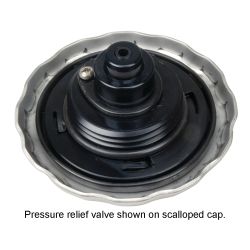 Angled and Straight Models
Government regulations now require that fuel fill caps be sealed so no fuel vapors can leak into the atmosphere.
When refueling is completed the cap is replaced and any fumes generated are forced through a vapor adsorbing carbon canister to atmosphere.

Chrome-plated bronze ratcheting cap
Integral refueling vent with flame arrestor
Black polymer body
Hose size: 1-1/2"
Vent hose size: 5/8"
Length of neck: 2-7/16"

Note For clarity, Perko retail packages their new EPA compliant sealed deck fills in green packaging, while their older (grandfathered) non-sealed deck fills are packaged in their familiar blue packaging.


Heavy on the technical side...
The Jul, 31, 2011 EPA fuel emissions requirements have caused changes in most current fuel fills.
The fill used in the system must be sealed when closed to assure that vapors do not escape into the atmosphere.
As a result of this, the EPA requires the cap must provide a means of indicating that it has been properly closed.
This can be an audible clicking type noise or some sort of visual indication.

Builders building to these requirements will be looking for sealed caps.
When refueling is completed the cap is replaced and fumes are then forced through a carbon canister to atmosphere.
Or, in a pressure relief system, pressure builds up to above 1 psi before venting through a pressure relief valve to atmosphere.
Depending on the refueling strategy, there will be either a vented fill or a non-vented fill, but in all cases the cap will be a sealed under normal operating conditions.

This item meets the CARB and EPA requirements of U.S.C.G Safety Standards (July 31, 2011) for 40 CFR Parts 9, 60, 80 et a. Control of Diurnal Emissions from Non-road Spark-Igniton Engines and Equipment.