Save over 20% and get a signed copy!! Ends December 17th
The New Get Rid of Boat Odors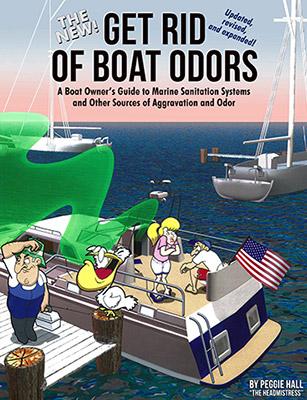 A boat owner's guide to marine sanitation systems and other sources of aggravation and odor.
This is the lowdown on how to do it right to keep your boat smelling sweet and make sure everything goes as it should in the head and beyond.

TABLE OF CONTENTS

What's Legal, What's Not
- U.S. Marine Sanitation Laws
- Coast Guard Certified MSDs

Choosing and Installing a System
- The Best Toilet for My Boat
- What Size Holding Tank Do I Need
- Installing a Toilet and Holding Tank
- Replacing an Existing Toilet
- Standards for Equipment and Installation

Getting Rig of Boat Odor
- Holding Tank Odor (Odor From the Tank Vent)
- Head-Related Odors (Inside the Boat)
- Boat Odors Arent ALL in Your Head!

Flush with Success
- Flushing a Marine Toilet 101
- Maintaining a Marine Toilet
- Tank Vent Maintenance
- Hose and Tank Maintenance

To Everything, There is a Season
- Winterizing Plumbing
- Spring Recommissioning
- Fresh Water Maintenance

Frequently Asked Questions
- The Ones Asked Most Frequently

Common Problems and Solutions
- How to Rebuild A Manual Toilet
- How to Pump Out the Holding Tank
- Cleaning Up from A Sewage Spill
-The Most Common Problems and Probable Cures

For a limited time The Head Mistress herself, and author, Peggie Hall will sign the book you purchase. If you would like her to include a short message, please type it in the comments box during check out.