Wear and Tear Pads, Stainless Steel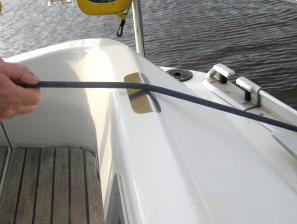 Easy to fit and visually attractive in polished marine grade stainless steel, these self adhesive strips unobtrusively protect your cockpit and cabin sides from rope chafe damage.

WearAndTear Pads provide long lasting gelcoat protection against chafe to gelcoat surfaces caused by sheets and furling lines and also to many other areas subjected to chafe on boats and yachts. Gelcoat repairs should be carried out before applying these anti-chafe pads for boats and yachts.

What limitations do WearAndTear pads have?

'WearAndTear pads' will not stretch around complex curvatures. They are therefore only suitable for straight sections of cabin tops and cockpit sides, etc.

We make the original and best anti-chafe pads for boats and yachts on the market. Accept no imitations.