Due to supply chain disruptions and new warehouse safety measures some shipments may be delayed up to 72 hours.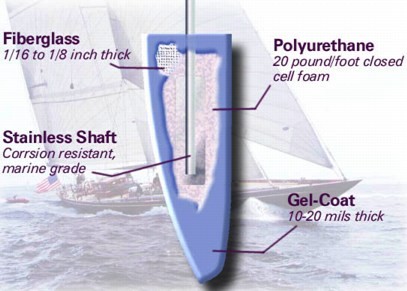 Replace your rudder with factory equipment Need to replace a rudder due to accident damage, delamination, or age?
Don't take a chance with rudders that might not fit, replace yours with the same rudder installed by the manufacturer.

We now offer the same rudders sold to boat builders, ensuring you the same fit and reliability your boat was delivered with.

In many cases, these rudders are even better than new, with better materials and assembly techniques applied to the same molds used when your boat was built.

Measurements: many boat models have multiple rudder molds so we require that you verify basic rudder measurements. A drawing will be sent to you after purchase. If your old rudder is not available for dimensional verification we can still make a replacement but we cannot guarantee fit.

Liability: On rare occasions, boat manufacturers modify rudders or the rudder on your boat is not original. In that event, we will work with you to make the rudder fit to the best of our ability. Please note we are not responsible for delays, haulouts, yard days, or extra labor charges.

A note about shipping and pricing: Due to the constant price changes to Stainless Steel, the prices quoted below are subject to change. These rudders ship via freight so you will be contacted regarding actual shipping after you order.
If you want a quote up front, contact us.