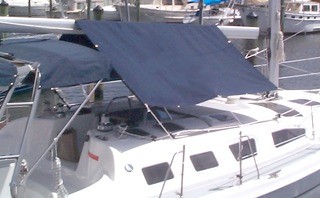 Save your skin and keep your cabin cooler!


A simple Boom Tent is just the ticket to protect you from too much sun and keep the companionway shaded for a cooler cabin. Offered in varying sizes up to 10 x 14 feet, the tent drapes over the boom and has reinforced grommets in the corners and along all four sides for attachment to the lifelines and shrouds (please note: sizes can vary an inch or two from the quoted size based on seam allowances).

Customers frequently use bungee cords for attaching, but a simple line for tying off works well too (bungee or lines not included).