Water tank for Catalina 22 Sliding Galley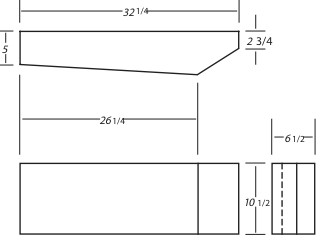 This is an 8 gallon water tank used in the early production run of the Catalina 22 mkI.
It was used until the mid 1970s. Important: Please compare the sketch to your boat to ensure fit.

These tanks are 3/8" thick, molded plastic for durability, long life, and reduced maintenance.

Upon purchase we will ask you to provide the location of the female threaded fittings, inlet, outlet and vent. Inlet and outlet are typically 1.5 inch diameter, but the vent size can vary: 1/2, 5/8 or 3/4 inch hose. Please let us know if you need a recess in the top center to accommodate the vent fitting.

You can use the attached sketch as the basis for a drawing.

Please take care to confirm the shape and dimensions will work for your boat. These tanks are not returnable.

Shipping cannot be quoted at time of purchase. Due to size, the tank will be shipped via freight (not a common carrier like UPS). After we receive your order a shipping quote will be provided. Shipping costs can be reduced by delivering the tank to a commercial address, like your place of employment or marina. Your credit card will not be billed until we have your approval on the cost of freight.