Electronic Ignition Conversion Kits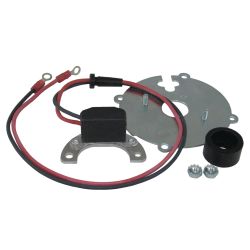 The Pertronix Ignitor is a race proven upgrade to convert the old style points distributors to an electronic system.

In most applications you can utilize your existing rotor and coil.
You can also upgrade your coil for optimal performance with our Flame Thrower 40,000 volt coil.
No complicated wiring makes installation easy.
Guaranteed for 30 months!
Replacement modules and sleeves are available separately in case you want to carry them in your spare parts area.