A-Series LED Accessory Lights - High Power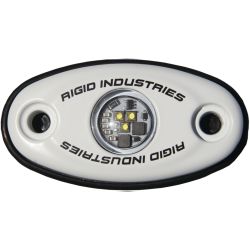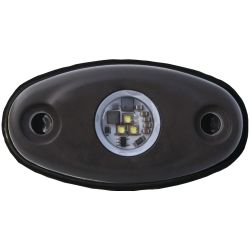 400 Lumen High Power Models
The A-Series LED Accessory Light might be small, but it packs a punch. Available in two options, high or low power, the A-Series is extremely versatile. Whether it's used as a dome light in your truck, a deck light on your boat, or driving lights on your trailer, the A-Series is the perfect solution. The A-Series includes multiple mounting options and is available in multiple LED colors - red, blue, green, and three shades of white - to suit your needs. The Triplex coating resists corrosion from harsh elements, such as saltwater.

3 high power 400 lumen LEDs
Multi-voltage 9 - 28V DC
Surface mount - with options for rear (hidden) or side (exposed) wire exit
50,000+ hour LED lifespan
Instant On/Off - no warm up
Durable polycarbonate lens with anti-scratch/UV coating
Fully submersible single piece aluminum housing
Powder coat finish
Dimensions without mounting pad: 3"L x 1.625"W x 3/8"H (optional mounting pad adds an additional 3/8" height)
Designed, engineered, and assembled in the USA

Kit includes: A-Series light with 24" wire lead, 3M VHB adhesive pad (and tube of 3M VHB Primer) for direct, low profile surface mounting (w/rear wire exit), black rubber base pad for flat surface mounting (with rear or side wire exit provisions), curved black rubber base pad for tube or rail mounting (with rear or side wire exit provisions), two sets of SS mounting fasteners.