Due to supply chain disruptions and new warehouse safety measures some shipments may be delayed up to 72 hours.
Tubing Adapter for Universal Tiller Extension Joint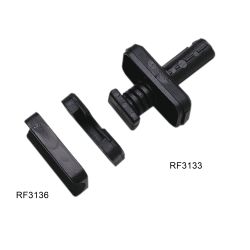 Quick Response to Steering Movements
Urethane universal joint permits smooth movement in all directions for precise control and instant helm response with no play in the joint. A snap-on cover plate secures the assembly, but allows the tiller extension to be removed from the boat for security. Permanent attachment is also possible. Guaranteed for life!
Image shows RF3136 tubing adapter at lower left; then RF3133 includes the screw-down base for the extension in the middle. Above and right of that is the end of the extension with its rectangular slide-in attachment point. Slid partway up that is the snap-on/snap-off securing cap. A piece of heat shrink tubing to seal the joint at the end of the extension and a rivet tube are also supplied.