Solid Color Double Braid Dock Lines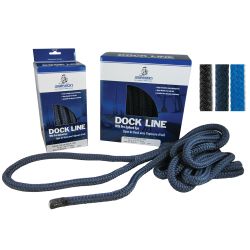 Pre-Cut Lengths with Eye Splice Several Colors
Samson's Solid Color Dock Lines feature their 2-in-1 double braid construction of a braided nylon cover over a braided nylon core for exceptional strength and handling characteristics.
The all-nylon composition provides superior elongation - smoothing out surges and relieving deck hardware from shock loads.
These pre-cut dock lines are available in a wide selection of diameters and lengths - all with a pre-spliced 12" eye at one end (3/4" lines = 18" eye).

Durable, easy to handle, long lasting flexibility
Resists rot and mildew
All colored fibers are 100% solution-dyed will not fade or bleed on boat surfaces
Note: Table provides Samson's suggested boat lengths only as a guideline; select dock lines based on mooring conditions and your particular vessel's characteristics

Note that, if desired, the 50 foot long dock lines in this offering can do double duty as Lock Lines when passing through the "Ballard Locks" between the Lake Union Ship Canal and the Puget Sound.