SaniPottie 970 MSD Series Pressurized Flush Portable Toilet - Empty Via Dockside Pump-Out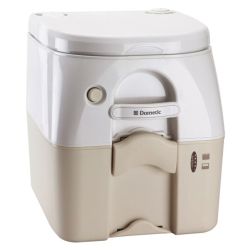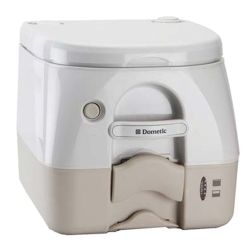 Models 974 and 975 in Standard or "MSD" Pump-Out Versions Push-Button Flushing Tan or Gray
Sealand's premium portable toilet, the 970 Series features powerful flushing at the touch of a button - without constant pumping or batteries. The flush-water chamber is pre-pressurized using the integral hand pump (good for 4 - 5 flushes), then you flush by simply pushing the flush button on the front.
Contemporary styling and a very aesthetic, clean, highly polished finish complement today's boat designs.

As is typical for many portable toilets, the SaniPottie 970s come with either small or large waste tanks. The 974 models can hold 2.6 gallons, and the 975 models hold 5.0 gallons. The upper portion of the toilet, including the flush water tank, is identical on both toilets.

Each size of SaniPottie 970 pressurized flush toilet is offered in two models for emptying:
Standard models are emptied by carrying the holding tank base (with integral handle and large pouring spout) to a disposal facility.
MSD models feature a 1-1/2" hose port for dockside pump-out without having to move the toilet. (The MSD fitting includes a 5/8" hose port for a tank vent.)
Typically, the MSD toilets are "hard plumbed" with a user supplied 1-1/2" hose being connected to a pump-out deck fitting, and the vent hose to a small thru-hull fitting. If desired, the hose may be connected to a holding tank via an auxiliary manual or electric pump.
MSD models also come with the standard pour spout, should you ever need to carry the holding tank to a disposal facility.

Some particularly nice features of the SaniPottie 970 Series are that all holding tank openings are located in the top of the tank - averting possible accidents in the unlikely event that a seal might leak.
Also, emptying the tank in the "carry and pour" mode is via a large, swiveling, extra-long pour spout (rather than just an opening in the body of the tank) - allowing for drip-free, splash-free, accident-free emptying.
The 970 Series are very nice portable toilets with a well thought-out design and excellent execution.

Powerful push-button flushing from 2.3 gal supply tank (all models)
High strength ABS construction withstands marine environment; smooth finish is easy to clean
Offered in two colors - tan or gray
Prismatic holding tank level indicator for easy monitoring
Lift-up seat with latching lid for added security
The sturdy lid is firm enough to provide a functional place to sit, if necessary
Easy disposal via extra-long spout (Standard models); 1-1/2" hose connection (MSD models)
Pressure/vacuum relief valve in each tank
All 974 and 975 models are supplied with snap-on/snap-off stainless steel mounting brackets
Two-year limited warranty
2.6 gal models measure 12-1/2"H x 13-1/8"W x 15-1/4"Deep
5.0 gal models measure 15-1/2"H x 14-1/2"W x 16-1/2"Deep


Heavy on the technical side...

How to Select a Portable Toilet
All the portable toilets are dual tank models - with separate tanks to hold clean flushing water, and a lower holding tank to contain waste. Flushing portable toilets are designed to provide clean bowls and provide a more home-like experience. During disposal, the tanks are separated, and the holding tank taken to a disposal facility for emptying. Some models offer the option to permanently, or semi-permanently, hard plumb the toilet to a traditional pump-out deck fitting.
It is worth noting that the holding tanks of modern protable toilets have O-ring or gasket seals at every opening which keep waste where it belongs, and virtually eliminate odor problems.

Portable toilets are typically offered in two main versions shorter models with 2-1/2 gallon holding tanks, and taller models with 5 gallon holding tanks.
5 gallon models take up more space, but their higher seat level make them more comfortable for most users. Additionally, 5 gallon tanks have the capacity to go longer between emptying and to accommodate larger crews.
2-1/2 gallon models are shorter, making them easier to stow in cramped boats and RVs. ALL portable toilets have completely sealed holding tanks (you have to be able to carry them), so they can actually be stowed in two pieces when not in use, if desired. This feature makes the 2-1/2 gallon models especially adaptable to the smallest of boats.
By way of reference, houshold toilets typically have a 14-1/2" bowl height, with "comfort height" bowls being about 16-1/2".

A second distinguihing feature among portable toilets is the variety of flushing mechanisms available.
Traditional models have a small hand-operated flushing pump. Some models have accumulator-style flush water tanks which are pre-pressurized and then are good for powering several flushes without additional pumping. Still other models have battery powered electric pumps to do the flushing.
Depending on the amount of water used per flush, 2.5 gallon holding tank models are typically marketed as being good for 20 to 30 uses between emptying, while 5 gallon models can handle 40 to 50 uses.

Additionally, there are a variety of seat styles, colors, design styles, and special features such as pour spouts or tank level indicators available.