Due to supply chain disruptions and new warehouse safety measures some shipments may be delayed up to 72 hours.
| Seapower Marine Products |
Boat Soap and Wax Kit for Fiberglass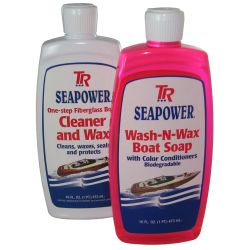 Boat Soap PLUS Cleaner and Wax
Buy the Cleaner and Wax, and get the Wash-N-Wax free!

Cleaner And Wax
The professional one-step fiberglass boat cleaner wax! Cleans, waxes, seals and protects the fiberglass surface. Contains the finest Carnauba waxes and silicons. Removes oxidation, residue, dock marks, grease and dirt leaving behind a durable high-gloss finish. Excellent for hand or machine use.

Wash-N-Wax Boat Soap
A highly concentrated wash that is biodegradable and environmentally friendly. It cleans & shines, reduces streaking and water spotting and will not remove the original shine as harmful detergent soaps may do. Ideal for periodic application to maintain the "like new" look of your boat. Excellent on poly finishes, fiberglass, metals, rubber and wood.