Due to supply chain disruptions and new warehouse safety measures some shipments may be delayed up to 72 hours.
| Seapower Marine Products |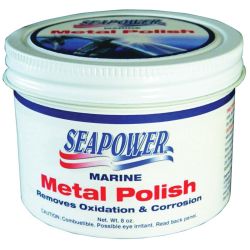 Easily Cleans and Polishes Most Metals With Severe Oxidation
For use on aluminium, magnesium, copper, brass, chrome, bronze, stainless steel and plexiglass.
Seapower Metal Polish easily cleans most metals having severe oxidation, corrosion or stains as well as removing scratches from plastic, Plexiglass and Lexan.