Due to supply chain disruptions and new warehouse safety measures some shipments may be delayed up to 72 hours.
Delica 4 Knife - Stainless Steel Handle & Combination Edge Blade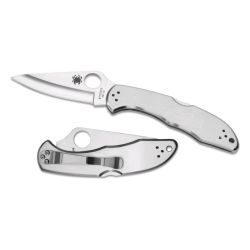 2-7/8" VG-10 Stainless Steel Alloy Blade Flat Sabre Grind Blade
One of Spyderco's best selling knives, the Delica is now in its fourth generation. The Delica4 is a grip-friendly, lightweight, one-hand open, folding pocketknife. This stainless steel handle version of the Delica4 fills your palm with a handful of steel and yet, at a mere 4 oz, doesn't seem weighty or unwieldy.
Since the handle surface is flat and smooth, it offers an ideal palette for engraving or personalizing your knife.
If you are considering using this knife in a saltwater environment, you might also check out Spyderco's Salt I knife for a near-equivalent, but completely rust-proof knife.

Blade Shape Modified Leaf Shaped Blade, developed by Spyderco, is similar to a spear point but is not quite symmetric, and is only sharpened on one side

Blade Grind Among the Delica 4 knives, this stainless steel version is the only one to feature a Full Hollow Grind blade shape which has bevels that extend from the center of the blade down to the cutting edge. This grind maintains full blade thickness through a larger portion of the blade for increased strength. The bevels, however, are ground with a concave radius to create a finer edge profile which is very sharp (straight razors for shaving have this hollow grind), but at the cost of slightly less edge durability compared to flat sabre ground edges

Blade Edge the Delica4 is offered in two versions:
Combination Edge which is part smooth and part serrated - offering that advantages of both types in a single blade. The smooth edge portion cuts cleanly, while the more aggressive serrated portion makes short work of tough to cut items like rope. The combination blade is a good compromise when the blade will be used for general purposes.
The Delica4 is also available with a traditional Plain, or Smooth, edge which cuts cleanly and sharpens quickly and easily

Large trademark Spyderco Round Hole allows easy opening of the knife using the thumb of just one hand. In turn, the enlarged Round Hole creates a prominent hump in the top of the blade for your thumb to rest against while cutting. A section of grooves (jimping) over the hole, at the base of the blade's spine, provides additional slip-resistance for your thumb

Handle high strength stainless steel with an improved, grip-friendly, ergonomic shape

The superb quality Japanese VG-10 Takefu stainless steel alloy used in this blade is universally praised on knife forum websites for its exceptional edge holding ability. It exhibits very good rust resistance. Addition of cobalt and nickel improve toughness for better edge stability
Versatile 4-way pocket clip is reversible (for left or right hand use), and the handle is pre-drilled at both ends for tip-up or tip-down carrying in your back pocket
Back Lock style positive locking mechanism employs a rocker arm to engage a notch in the tang of the blade to lock it open; depress the recessed rear end of the rocker in the spine of the knife to unlock the blade; mechanism is recessed to prevent accidental unlocking
Lanyard hole for retention cord, if desired
Closed length is 4-3/16"