Tank Tender - Selector Valve Kit for Additional Tank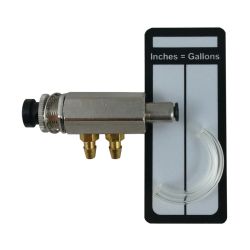 Each Tank Requires a Panel Mounted Selector Valve
These are the Tank Selector Valve Kits required if you want to add additional tanks to your Tank Tender system AND you buy/bought a panel with only one selector valve pre-installed. These valves mount on the rear of the panel.

The kit includes a tank selector valve that mounts on the back of the panel, a section of push-on tubing to connect the new valve to the adjacent one on the panel, and a calibration card.

To accommodate various installation scenarios, Tank Tender Panels are sold with one, four, five, or ten tank selector valves pre-installed.Users wanting to measure 1 to 3 tanks should buy a "4 Tank" panel but with only a single selector valve installed. Then, purchasing these Selector Valves, you can add an aditional one or two tanks, without having to pay the price for a 4 tank panel with all four valves factory installed.

Note Each additional tank will also require the purchase of an additional Tank Penetration Fitting, an Extender Tube for tanks over 30" deep, plus tubing to connect the penetration fitting to the panel.