Dual Station Oil Pressure Senders - for VDO Gauges Reading to 80 PSI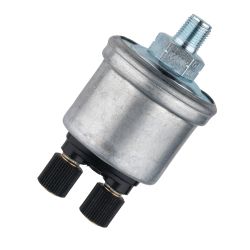 80 psi, 150 psi, 350 psi, 400 psi
All these pressure senders are designed to work with VDO gauges ONLY.

These senders are for dual station installations (1 sender : 2 gauges)
Senders are matched to gauges according to the maximum reading on dial face.
Note: NPTF = NPT Fine
The "B" in the part number has to do with packaging quantities and can be ignored when selecting the type of sender you need
"Component ID Stamp" is a short-hand identification code stamped onto the hex nut on the sender
Standard Ground - Sender case to common ground; and Dual Station Ground, if applicable
Floating Ground - Isolated terminal on gauge to common ground; and Dual Station Floating Ground, if applicable

Please note: These VDO senders have tapered threads and should NOT be used with Teflon tape or pipe sealant. This will interfere with grounding, causing incorrect instrument readings.