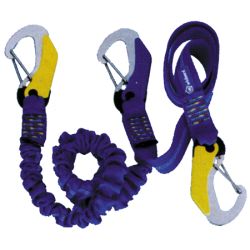 Retractable Tether with 3 Double Action Safety Hooks and Fixed Line
These Wichard safety harness tethers are now available with the new double action hook. Its patented concept prevents any accidental opening of the hook. The elastic, retractable, section of the tether provides great freedom of movement as it retracts and extends without dragging on the deck behind you. This tether adds a 3-foot fixed length section to the retractable section.
Three hook design allows you to always maintain one point of attachment for increased safety
Elastic section retracts from 2 meters to 1 meter
Breaking load 4,500 lbs.