Due to supply chain disruptions and new warehouse safety measures some shipments may be delayed up to 72 hours.
MARPOL Pollution / Garbage Prevention Plaque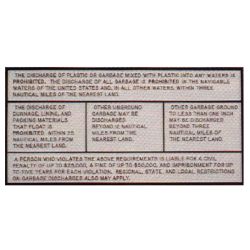 Do Your Part to Prevent Pollution From Boats
Bernard offers 9-1/4" x 4-1/2" plaques that comply with federal rules now requiring boats over 26 feet to display overboard discharge laws. Don't risk potential criminal and civil fines! Bernard plaques have adhesive backing and are easy to apply. Made of white plastic.