Due to supply chain disruptions and new warehouse safety measures some shipments may be delayed up to 72 hours.
T-126 Petroleum Sorbant Sweep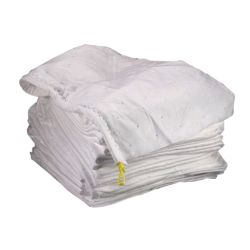 Incorporates a Rope Edge So It Can Be Pulled or Towed
This sweep incorporates a rope which is attached to one side of the sorbent material.
This allows the sorbent to be drawn across an "on water spill" to recover the petroleum product.

Dimensions - 21" x 100 ft
Adsorbs approximately 25 gallons of petroleum product


Heavy on the technical side...3M Petroleum Sorbents are used for control of spills of hydrocarbons on water or land.
They repel water and float (as long as surfactants are not also present).
They are typically used on water to contain and adsorb hydrocarbons that are on the surface or in an emulsion in the water.

Typical Liquids Adsorbed - Petroleum Sorbents are suitable for adsorbing hydrocarbons, as well as non-polar organic solvents, eg., oil, paraffin, diesel, benzene, alcohols, toluene, trichloroethane, esters and ethers.
(Adsorb = Adhere + Absorb)

Petroleum Sorbents are made from inert synthetic fibers, principally polypropylene and polyester.
They are available in a wide range of formats and are lightweight and nominally dust-free.
They have a high absorption capacity which minimizes the amount of waste for disposal purposes.

3M Sorbent sheets and rolls are white.
Booms and pillows are red/orange.

Sweep - Used to pull over still water to remove surface films. Incorporates a rope along one edge for extra strength.
Pads - Are a highly adaptable format. They can be used on water to pick up oil covering large surface areas and in wiping applications.
Booms - May be connected together to form barriers. These are anchored at each end and positioned across still or moving water to contain, channel and adsorb oil spills. Suitable for use on rivers and in harbors.
Minibooms - Generally used for on-land applications to contain and adsorb spills.
Pillows - ulk absorption of oil on land or water. Particularly useful in drains to act as interceptors.
Rolls - For fast coverage of large surface areas of water, they can be easily torn to length. Also used as a mat to keep shorelines or banks clean and to place used sorbents upon.
Folded - Combines four formats in one product. It is perforated every 16 inches and can be unfolded to be used as booms, pillows, sheets or rolls.
Specialized HP Anti-Static Series - anti-static products for use in low temperature or low humidity environments to reduce the risk of sparking.
They have a charge dissipating polypropylene scrim and are packaged in charge dissipating film.
Spill Kits and Response Packs - May contain different types of sorbents and temporarydisposal bags. Compact for easy storage and quick response.

Disposal
Dispose of used sorbents only in accordance with local and national regulations.
Disposal companies should be consulted for their recommendations.